Toronto Kalibari Durga Puja celebrated at Moonlight Convention Centre,
6835 Professional Court, Mississauga. ON. L4V 1X6 adjutant to Kalibari
Goddess Durga is a symbol of shakti (power) and one of the most celebrated deities amongst the Hindu. Bengalis worship Goddess Durga in the Hindu month of Ashwin (around October) when mellow sunshine lingers on green meadows, and cotton-candy clouds roam in the clear blue skies. The Bengalis refer to this deviation as Akaal Bodhon.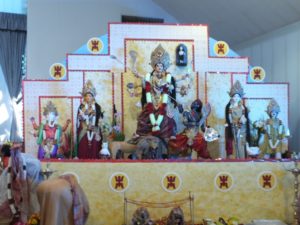 Toronto Kalibari like previous years celebrated its live Mahalaya program on October 6th 2018, Saturday and the key event of Durga Puja from October 14th till October 17th 2018. Bijoya Dashami followed on October 18th 2018.
This year the Temple has witnessed a record crowd from all walks of life. Particularly on the Maha Ashtami day, the Kali Temple and the Moonlight convention Center were overwhelmed by more than 2000 devotees, who had come over  from all over Canada, overseas and south of the border.
All the four days – Maha Shashti, Saptami, Ashtami and Nabami were coloured with authentic Puja which covered Arati-Bhog, Pushpanjali, Chandi Path, Evening Puja with Pushpanjali (both day and evening) and of course followed by a Variety Program. We are proud to say that most of the performances were staged by very talented local young Artists. The ambiance and fragrance of the festivity felt pure, auspicious and blissful.
Heartfelt gratitude goes to all the devotees, volunteers, benefactors, sponsors, advertiser's and all the trustees of Kalibari.
Sincerely,
Chairman and Board of Trustees -Toronto Kalibari
Deity of Ma Kali at Kali Temple situated at 6815 Professional Court, Mississauga, Ontario, L4V 1Y2, Canada. Telephone: (905) 405-0780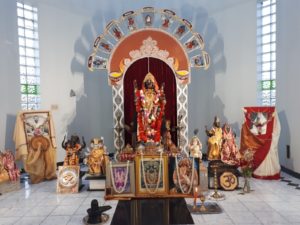 Toronto Kali Bari, a Hindu Temple, in the City of Mississauga was established 32 years ago and is maintained as a safe, common place of worship to protect and showcase the rich traditions of Hindu culture.  Our goal is to provide a comfortable place where peaceful ideals and celebrations are aimed to further the well-being, prosperity and overall development of our community. The Temple is structured entirely for charitable, religious, and educational purposes.
Our intention:
To provide a place of worship and be the main spiritual resource center for the community
To preserve and promote Hindu cultural values and traditions
To provide individuals from all backgrounds, the path to peace and bliss, through "Devotion, Service and Teachings"
To provide facilities for Meditation, Cultural showcases, and educational activities
To advance knowledge which encourage and foster interfaith understanding and cooperation.
To provide young members of the community with facilities for cultural activities that are fun and educational.
Our Mission
To create a community that aims to further the safety, well being and prosperity of its members by showcasing, teaching and reiterating the values of Hindu and Indian customs/traditions.
Our Vision
To create a venue where members feel safe and comfortable participating in furthering and protecting the ideals of the Hindu Religion. A place where members feel equal and respected amongst their community members to continue to look for ways to creatively expand its philosophy and teachings, while remaining relevant in an ever-expanding social media world.
Our Goals
To conduct daily worship services – to Hindu Gods and spiritual masters, in accordance with traditional Hindu rituals and customs.
To conduct religious education classes, study circles, discourses, celebration of Hindu festivals & religious activities, and cultural events.
To engage in various community service activities – to serve the needy and elderly as a part of our religious duty.
To enhance pride in Hindu Religion – for present and future generations.
To promote understanding and respect for Hindu philosophy.